Phelddagrif
Show Weakness to Hide Your Strength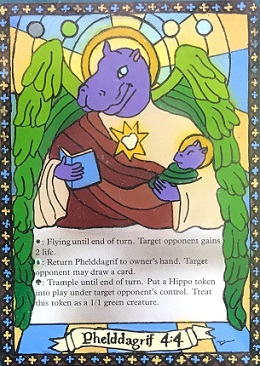 Phelddagrif
is the exploitation of multiplayer dynamics. He is politics become a weapon. He is capable of winning at the most competitive Grand Prix tables, while still playing fair at the kitchen table. Played badly, he is almost incapable of winning. Played well, he is almost incapable of losing.
Core to the power of Phelddagrif is this simple maxim, from the card
Disruptive Pitmage
– "Show weakness to hide your strength." Nothing about this deck looks like it should work. Not even casually, let alone competitively. It breaks all the rules of deckbuilding. In a format where decks are recommended to have many avenues to victory, it barely has any. In a format where 1:1 trades are considered a necessary evil at best, more than half its nonland cards do just that. In a format where commanders can be incredibly powerful, it runs a commander famous for being the head of decks with no desire to win at all.
No experienced player of commander could reasonably feel threatened by Phelddagrif.
Which is exactly why it can win over, and over, and over.
This guide isn't designed to simply give you a decklist, a few tips, and wish you luck. A solid understanding of how the deck works is critical to building it, personalizing it, and playing it. This deck does not give you a safety net – one wrong move can cost you a game, and nearly every lost game can be attributed to a mistake you made. Believe me, I've made many, many mistakes, and sometimes the solution wasn't apparent until hours later. Consider this guide an anthology of all my mistakes, and how you can save time and avoid them. But no matter how long you play Phelddagrif, there's always room to improve. Mastering Phelddagrif is almost synonymous with mastering the format itself.
I hope this pretentious intro has sufficiently enticed you to read a whole lot of relatively dry strategy about a flying hippopotamus.
---
Is Phelddagrif Right for You? Take This Quiz to Find Out!
You might like Phelddagrif if:
You like difficult to play decks
You enjoy multiplayer politics
You like playing draw-go with few permanents on the board
Your meta has balance problems
You like slow games with lots of back and forth
You are on a budget – or not
You like being able to win a very high percentage of games
You might not like Phelddagrif if:
You are an inexperienced player
You like your games to be easy and low-stress
You like quick games
---
Other Political Commanders (and Why Phelddagrif is Superior)
If you're unconvinced about the power of Phelddagrif but still want to play a political game, there are many other commanders you may have been recommended. Those recommendations are bad and here's why.
Phelddagrif gives something quite rare in magic - the ability to directly benefit an opponent, at a low price. This might seem somewhat useless, and in a 1v1 game it generally is, but in multiplayer it gives you the ability to manipulate the game as you see fit, limited only by your ability to haggle and to properly read the board. This is what makes Phelddagrif both incredibly powerful, and incredibly difficult to play.
But there are usurpers for the crown of "best political commander", and some people mistakenly believe that Phelddagrif has been overthrown. He has not. Here are some of the commanders you're most likely to hear people throw around when the topic of political commanders comes up.
Queen Marchesa
- The Queen is an interesting card. The monarchy itself is a political negative (since people will want to hit you to take it), at least until you've gifted it to someone else, but crappy little 1/1 deathtouch blockers are excellent political deterrents. In this regard, Marchesa is a completely passive political tool - she merely creates situations in which your opponents are motivated to attack each other, either to get the crown, or to avoid cutting their teeth on your army of assassins.
Unfortunately this is a somewhat limited effect. Good at stopping dumb craw wurm decks, not so great at stopping combos, or noncombat damage, or tokens, or even flyers. And in the meantime, you're giving your opponents card advantage unless you're retaking the crown. One token per turn cycle is not a lot in a game of commander. If your opponents want to hurt you, they will. And you also lack blue, which gives you significantly more weak spots when dealing with enemy combos that can disregard your political game. Interesting card, fun, political...but not nearly strong as strong as Phelddagrif.
Gwafa Hazid, Profiteer
- I can respect Marchesa, but Gwafa just annoys me to death when he's mentioned alongside Phelddagrif. Gwafa is the anti-politics. He's where politics goes to die. Think for two seconds - after you pacify your opponents creature with an effect that's only active while your commander is on the board, what permanent is your opponent motivated to kill first? If your opponent is relying on combat and your commander disables combat, who are they likely to kill first? Sure, you let them draw a card. I'm sure they'll appreciate the help while they use it to pulverize you.
Granted, you can use his ability on utility creatures to give your opponents cards for free. But you know who can do that much more effectively? Phelddagrif. Gwafa is a terrible commander and you should not play him if you have any interest in politics whatsoever.
Zedruu, the Greathearted
- On its face Zedruu looks like a solid political choice - donate a permanent, get some cards and life, everyone wins. In practice, Zedruu is not generally interested in giving away useful permanents. Your opponents will not be excited to receive an
oblivion ring
, and they won't thank you for it. Could you give away real permanents? Sure, but drawing many cards per turn is quite threatening, so even if they appreciate the land you've donated, they're probably still going to target your commander quite a bit. If you gave away something REALLY strong, like, say,
blightsteel colossus
, then sure, maybe then they'll focus on each other. Is it actually practical to do that? No, not really, no. She's got good colors and an interesting ability, but she's either not political or she's very bad. Either way, no competition for Phelddagrif.
Kynaios and Tiro of Meletis
- I go into more detail later, but suffice to say that K+T are not political. When you can't control the ability at all, no one is motivated to "be nice" to you. They get the same benefit either way, and it's not really a benefit anyway because everyone is getting the same thing. Plus you're still getting the most benefit, so no one is under any illusions that your commander is the spirit of altruism. You might get cut slack for playing a group hug commander by very casual players, or maybe savvy players who decide you aren't a threat because your commander is lame, but in terms of real politics, real ability to maneuver the game - K+T ain't it.
Tasigur, the Golden Fang
- I've played Tasigur a fair bit, and he's lacking one thing that Phelddagrif has in spades - the ability to fly under the radar. Recursion feels great when you know what you're getting back, but that comes at a cost. Your opponents are probably not total idiots, and the second or third time you activate his ability to recur the exact answer you need to stop them, they're going to catch on, and then you're going to become the threat to them - even if your only nonland permanent is tasigur, if he's drawing you multiple removals and counters per turn. Yes, he's certainly powerful, and the ability to summon answers with ally help is very powerful, but he gets very little slack, and he's forced to use his answers to defend his position much more frequently, in my experience. Can he play politics? Yes, in the right circumstances, absolutely. When you're far enough behind and someone else is getting scary, he can use politics to manipulate your opponents to give you the cards you need. But long-term, he wears his power on his sleeve. People will wise up to his strength, if they haven't from game 1, and you can expect most games to end playing archenemy, or close to it. The existence of powerful combo decks using him, as well as his power in other formats, doesn't help either. He's powerful, but he can't fade into the background like Phelddagrif can - which is our most powerful tool of all. And that's why Tasigur cannot compete with Phelddagrif - though he might be the closest.
Gahiji, Honored One
- Much like Marchesa, Gahiji just creates scenarios where your opponents are motivated to attack each other. And much like Marchesa, he's just not in good position to deal with decks doing stuff more complicated than bashing creatures together. Your opponents can do more damage to each other, sure, which is good if they're already trading damage - but it probably won't convince them to attack someone else if you're the threat. Plus his ability is most powerful for you when you're playing a bunch of tokens, which tends to be fairly threatening. He's barely political at all, to be honest, and not very powerful either. No real competition.
Mathas, Fiend Seeker
- There is some political benefits to be had with Mathas - he can hate on specific people by targeting their creatures, and he can motivate people to target the things he wants targeted. What lets Mathas down, besides his lack of blue, is how symmetrical his effect is, and how slow. One counter per turn is not a ton. Your desired opponent may well not have a good target - especially since commanders don't generally work with his ability. And while it's nice to think that someone might use removal now that you've marked the creature, in practice they don't get much benefit from it, since only the one player doesn't draw the card. It's almost as symmetrical as K+T. And there isn't much urgency to removing the creature that didn't already exist - the death trigger will happen sooner or later. Plus much of popular removal doesn't kill, but exiles, tucks, or bounces. This makes the card rather limited - a decent way to focus out one player by giving resources to everyone else, but not very effective at playing politics, especially not at high powered tables.
Nin, the Pain Artist
- Nin really doesn't get enough hype as a political commander. Honestly she's pretty cool. She's very efficient as a card advantage engine for both your and your opponents. That said, there's a few things that let her down compared to Phelddagrif.
The first thing is that pesky ability to draw cards for yourself. Sure, her ability can be political, but most people will probably assume you're planning to use it all for you - which, let's be honest, is probably going to be true a lot of the time. And they're going to kill her a lot, on that assumption.
The second thing is that red-blue is a middling color combo. White-blue, or blue-black in a pinch, is really where it's at. You really want the ability to remove all permanent types, interact with the stack, and wipe the board when necessary. Red has a few tools for creature wipes, though many are not super reliable against high-toughness creatures, and blue tends to bounce without killing. That makes you pretty weak to enchantments, and some creature boards.
The final issue is that drawing cards for your opponents is...a mixed bag. If your goal is to legitimately help your opponents, because someone else is threatening to get out of control and you need help - then drawing cards is definitely a powerful way to do that. But, it's also very risky. You might just draw them into their own combo, or something they'll use against you. Phelddagrif is much happier donating life and hippos, which are much easier to predict. Giving someone cards is risky and unpredictable, and giving them lots of cards is even worse.
Also, Nin, despite costing only 2 mana, is vulnerable to removal while Phelddagrif is essentially invincible. This further makes board wipes worse, and means you can be priced out of your commander by the late-game. Her ability requiring a tap exacerbates the problem. Cool card, but too explosive to live, and too unpredictable to create the kinds of balance we want to manufacture.
Diaochan, Artful Beauty
- It's pretty obvious right off the bat why Diaochan is not going to compare to Phelddagrif. Mono-red is really hard to police effectively with, as you are vulnerable to multiple permanent types, and can't interact with many dangerous spells on the stack. You also lack tutors to find the rare answers for those things you're weak to. So there's really no competition here, but Diaochan is still interesting to talk about. To me, the biggest letdown about her ability is being your-turn-only. If should could be activated any time, she'd be a much more useful political tool. Having an obvious answer in the command zone is fairly limiting too, though - no combo player worth their salt is going to play into Diaochan, which either means they'll go off in one turn before you can activate her, or they'll kill her to prevent you from using her to stop them. But all that aside, she does sit fairly nicely in terms of being nonthreatening and being able to manipulate the board, and could be interesting for a low-powered table. For competitive tables she's right out, though, and she's also a lot more limited in her ability to control the game, between being sorcery speed and only relevant against creatures.
---
How this deck came to be, and what I've learned from it.
This Phelddagrif list started with a simple question: how can I win as many games as possible in commander? Building a powerful deck seems like the obvious choice at first, but ultimately that's going to result in one of a few things – either your meta will refuse to play with you, or they'll adapt so that you're no longer the most powerful deck, or at least not by as much. So working backwards, I thought about what kind of win would be least likely to make me a target in future games. Killing everyone at once with a combo is right out. Overwhelming the table with a powerful board state also seems right out. Ideally, I'd want something that would appear as innocuous as possible, and would seem to win essentially by accident, after the other players had eliminated each other. I'd just happen to have just the right tools to eke out a win against the last player. This also means that only the last player would face my deck directly. No one else would feel like they lost to me, and wouldn't consider me more of a threat in future games.
From that original idea, I started working on Phelddagrif, a commander that gets no respect competitively, but has enormous power in his capacity to influence the game politically. The deck would have as few scary cards as possible, while still being capable of defending itself if necessary with a wide swath of counters, removal, and board wipes. This ability to retaliate would be key – if anyone was committed to messing with me, they might be able to take me out, but they'd also guarantee their own loss as well. The deck's hallmarks were being unthreatening, yet dangerous to anger. It could block explosive plays to ensure that game went long, could make itself as unappetizing as possible to ensure that it stuck through until the end, and then it could play a straightforward 1v1 game with draw-go control, which was very winnable.
As I played the deck, I realized that it was really good at a lot of things besides just winning, though.
For one thing, it led to excellent games, because it was capable of shutting down powerful decks while benefitting the weaker ones, balancing a game that might otherwise have been very one-sided. Because it had such powerful control of most games, it could happily sit back and watch decks rise to the brink of victory before knocking them back down, which meant that other players got a chance to "do their thing", even if they didn't ultimately win with it.
It was also very engaging and difficult to play, because of the risks of playing with such a small board presence and using mostly one-for-one answers that scaled badly if used at inopportune times, as well as the enormous breadth of possibilities when playing with a commander that could so easily manipulate other players' actions. I'd often realize hours later what I should have done to manipulate the game to a more ideal state.
The most difficult part of building the deck was striking the right balance of power and subtlety when it comes to value. Some games would become unwinnable after exhausting removal and leaving me defenseless, but including powerful draw engines could easily make me the threat and force me to play an archenemy game, which went against the premise of the deck. Finding the middle-ground for generating value is the most difficult part of the deck, and the part that's taken me the longest to optimize.
Crafting this deck off-and-on for so many years, and adding new understanding with each iteration, has really been a labor of love. I think this deck expresses what I love most about commander, and shows what I think commander can be as a format – one where clever play can be more important than raw power, and where social interaction can be as crucial as having the right cards.
---
Before we talk about how Phelddagrif, and the rest of the deck, work, I want to talk about politics in multiplayer games.
One way to view games of commander is that every player has some chance to win, and all those chances add up to 100% (ignoring the possibility of a draw). That chance is based off your life total, your board state, your hand, your deck, how good of a player you are, etc. As the game progresses, those chances will change, sometimes drastically and sometimes subtly. Every action anyone takes will have some subtle (or not so subtle) effect on each players chance to win. Your goal is to perform actions that increase your chances of winning until they become 100%, at which point you've won.
This model can be used to understand some things you've probably known intuitively already. It explains obvious things, like why it's best to play a land on turn 1 instead of passing the turn and discarding a card. But it can also explain things like why (in an oversimplified example that we'll come back to) using single-target removal is often considered an inefficient move. If you use removal on one opponents creature, you're down a card and they're down a creature, so both of your chances to win have taken a hit. Who, then, scoops up that chance to win? Your other opponents.
But to look at that example again, the model can explain it's usually correct to use your removal against especially threatening cards controlled by especially threatening players. The most threatening player is the one who has the highest chance to win the game, so by knocking his chances down, you free up more of the percentage pie, as it were, which can be claimed by the other players. You've lost some value by using a card, but you can still gain better chance to win overall if you disrupt the leader's plan significantly enough. Yes, it's still even better for the other players who don't lift a finger and profit anyway, but this is, in simplified form, why using targeted removal isn't necessarily a bad idea. You just need to choose the right targets.
The reason I bring up this win percentage model is to help explain how the deck works, and why it can be so effective while seemingly looking like a very poorly designed deck for a multiplayer format. Each player is trying to make moves to improve their chances of winning the game. The moves our opponents make will ostensibly always (at least attempt to) improve the mover's odds of winning, but they don't necessary have to hurt OUR odds of winning.
A classic, rightfully-banned example is the card
Trade Secrets
. This can was extremely overpowered because it abused the nature of a multiplayer format. Ordinarily the targeted player wouldn't want the caster to draw more cards, but because the targeted player also got a benefit from allowing the draw to continue, their motivation to win was effectively hijacked by the caster to create a two-player game between them and the target, with the other players at a huge disadvantage.
The goal of this deck is to see the game through our opponents' eyes, decide which actions they might reasonably take that will most benefit and least harm us, and then attempt to create a scenario such that they are as motivated as possible to perform those actions.
---
Let's lay out the main tenants of what makes this deck tick, and then examine them all in greater detail.
Here are the four main tenants of the deck:
We appear as nonthreatening as is feasible
We provide few targets for removal
We are capable of massive retaliation
We offer direct motivation for our opponents to perform actions we desire
We Appear as Nonthreatening as is Feasible
Obviously we're going to need to be at least a little bit threatening, or else it would be impossible to win, but every card in the deck should be carefully chosen to avoid the appearance of a threat. This means we don't create big boards, we avoid enormous hands, we don't excessively exert control over the game, and we even avoid cards that might cause our opponents to fear us in future games. In most versions of the deck, the only feasible way to kill someone is with Phelddagrif beatdown. Every time we win should be a factor of careful planning and having just enough control to deal with the final opponent and secure victory with Phelddagrif. This way it never looks like some trick, like we're a wolf in sheep's clothing – we are, in fact, a sheep. Just one who always manages to steer in the game carefully in the direction they need to win (which, in fact, sheep are not generally capable of doing, so apologies for the confusing metaphor).
We Provide Few Targets for Enemy Interaction
A simpler part of the card selection for this deck is to avoid anything that might reasonably be targeted for removal. Besides the fact that most removal is aimed at something because it's a threat, and we don't want to play threats, by playing few nonland permanents, and especially few creatures, means that we can force our opponents to use their removal elsewhere. Enemies using removal against each other is almost always a positive thing for us, so causing this to happen as often as possible is excellent for our chances to win, and dovetails nicely with our first goal.
Our commander fits perfectly into this goal, as not only is Phelddagrif generally considered weak and not worthy of removal, not only is he virtually invincible because of his bounce ability, but his bounce ability also draws a card for a different opponent than the one targeting it, so they've effectively lost a card to accomplish less than nothing.
We are capable of massive retaliation
This point seems to be at odds with the other two, given that we don't have a lot of threatening tools to retaliate with, but there's one main exception – targeted removal. Well-placed removal can absolutely wreak havoc on the recipient's win percent, but it's not exactly threatening because it doesn't inflate our own win percent by much. While threats like
Avenger of Zendikar
may be capable of offering retaliation, they're still everyone's problem to some extent, even if it's attacking someone else this turn, it needs to be solved at some point. Removal, on the other hand, is directional. It only hurts one person. This is what gives us the double barrel of being both uninteresting to target because we're so weak, yet also very dangerous to target because we're so destructive. Those tools of destruction are also coincidentally excellent to have in circumstances where you need to disrupt combo, which makes this deck very powerful in metas where that can be a significant risk. When half your deck is answers, combo is going to have a hard time. Answers are basically agnostic about what you're using them against – whether you're killing a
hermit druid
or a
craw wurm
, the removal doesn't really care. Which makes the deck exceptionally versatile compared to other decks – it can put up a good fight even in competitive metas, but also doesn't crush weak metas easily. This is a deck you can play anywhere and have a good game.
Phelddagrif also works with this gameplan, except by proxy – if we're out of removal, we always have the threat of offering massive support to a mutual enemy. Even if you take us down, you won't be able to win. And Phelddagrif also acts as a small, but significant, defense against attacks – large, nontrampling attackers can be negated by blocking and bouncing, against netting a card for a mutual enemy. Our opponents should always believe that messing with us is a bad move.
We Offer Direct Motivation for Our Opponents to Perform Actions We Desire
The last point is something that's almost unique to this deck, and it's why
Phelddagrif
is the deck's centerpiece. While the other points all deter our opponents for messing with us, it's our ability to motivate our opponents with positive reinforcement that lets us coerce them towards our more precise ends. Our opponents often have difficult choices to make, and being able to put our thumb on the scale is a tool that few decks have. Say someone is deciding whether or not to attack a threatening player – they do want the player dead, but they'll lose several useful creatures if they do so. It's a close call, but then we offer to give them three hippo tokens and four life if they go through with the attack. Now they're sold, and they're doing exactly what we want them to do, without any cost to ourselves. Or maybe we're fanning out a
Fact or Fiction
, and we want them to separate them into a strategically poor split – with a few cards of their own for motivation, they're a lot more likely to see things our way. What makes Phelddagrif so good at this is his ability to provide motivation in multiple different flavors, in any increment you can afford, at instant speed. Saying you'll help someone later on down the line might push them to do something, but offering rewards right here, right now is a hell of a lot better. You can join the action to the reward completely, as surely as
Trade Secrets
will let you draw more cards if you let your opponent do the same. This capability is so powerful that I think even experienced players can only really scratch the surface of it, because it can affect nearly every action your opponents take, multiplying your influence across the whole table. And, it's worth mentioning that removal and other tools can be used similarly – say, killing the blocker of a mutual opponent as long as they attack that player. The deck is absolutely packed with the ability to abuse this, and it's only limited to your own ability to see the plays you can reasonably convince your opponents to take, and your ability to persuade them to do so. With hippos.
Putting all four of these points together, and hopefully you can start to see how we're able to maneuver the game to our desired ends. Our opponents don't care about us, they can't target us, they don't want to risk angering us, and we can motivate them to do exactly what we want.
---
This outlines our plan for every game, from the mulligan to the final attack.
Step 1: Development and Balance
Early in the game, we have a few basic goals. We want to develop our board by hitting land drops and eventually playing Phelddagrif, and we want to keep the game from swinging too wildly out of balance. This means we're vigilant for any sign of a fast combo, or some early threat that might represent a problem for us. Early-on we have fewer resources, so it can be crucial to stop things before they get out of hand. If we're in an unfamiliar meta, it's especially important to be able to read our opponents and their decks to determine who is most likely to be a threat. You should be familiar with common combos, deck archetypes, commanders – the more knowledge you have of the format, the better equipped you'll be for this stage of the game. Ideally we shouldn't have to answer anything yet, but we should always be prepared to if necessary, and we should be getting a feel for what each player is trying to do.
As far as opening hands, we're usually looking primarily for lands. Five land hands are great. Six lands can even be acceptable with a good versatile answer, or an early value engine. Seven can be playable if you know that no one is playing a fast deck. Our goal is to avoid the scenario where, turn 4, we miss a land drop and are forced to either jettison an answer or use it on a subpar target. This also means cheap permanents like
Telepathy
,
Exploration
, and the like can be very welcome in our early hands – although we'd still like to see a minimum of 3 lands. Exceptions exist if you have cards that can set you up to get future lands, such as
Sylvan Library
,
Land Tax
, or
Sensei's Divining Top
.
Once we're far enough into the game that threats have started emerging, we should start deciding how we want the game to play out. Some players may emerge as especially dangerous, and we'll want to make sure they're eliminated before they manage to slip past our answers and assemble a way to win. Other players may be especially weak, and we want to keep them in the game as long possible - these players are our targets. Because we don't have any quick way to kill anyone, we're going to rely on our opponents killing each other, with our assistance to move it along. We're essentially playing Robin Hood – from the rich and powerful, we ransack their win conditions and leave them with nothing. For the poor, hippos, hippos and more hippos, and maybe some cards and life too. The more pronounced the disparity between the strong and weak decks at the table, the more aggressive we should be in pursuing this goal. Of course, you should be careful not to overinvest in your target player(s), lest they decide to use those resources against you, and try to keep answers to their potential moves in case of betrayal.
Eventually your little uprising will be complete, and only the weakest player will remain alongside you. Or possibly a few players, if you've accidentally made yourself the threat. Either way, now it's time to actually try to win. Since Phelddagrif is our only feasible way to win with most versions of the deck, we're usually going to need at least 4-5 turns per opponent, depending on any buffs you might have from lands and such, and more if our opponent has disruption (unless it's worth counter-disrupting, but simple removal usually isn't worth one of our counters). This is why it's so critical to narrow the field to one opponent as quickly as possible. Yes, with good value engines you might able to hold of multiple opponents, possibly even with ease, but this makes you look bad for subsequent games. Instead of being viewed as a non-threat, you're viewed as a slow threat which is perhaps best killed early before you become too powerful. The goal is to be just powerful enough that you can safely assure a win.
At this point, we're a lot more likely to use what removal we have, since every threat is now aimed at us. Of course this doesn't mean kill everything on sight, but it should be treated like any 1v1 game with a draw-go control deck – focus on priority targets, get card advantage where you can, try to outsmart your opponent. Phelddagrif is basically a perfectly competent 1v1 control deck in a lot of ways, and it plays like one when the game gets to that point.
That's basically the broad brushstrokes of why the deck works, how to play it, and of course why Phelddagrif is the only commander for the job. Now let's look at what the rest of the deck is made up of to accomplish this gameplan.
---
Integral to the success of the deck is following this general outline for composing the deck. Some deviation is acceptable, of course, and a meta call, but I'd recommend sticking pretty closely to this outline, at least until you're confident enough that you know what you're doing.
The beating heart of the deck. It's what enables us to be dangerous and interact with the game, without becoming the threat. These usually make up a large percentage of the deck, usually around 20-25 slots, to ensure that we have the right tool for the job as often as possible.
Counters are removal for the things that targeted removal isn't effective against – instants and sorceries, creatures with etb effects, permanents with activated abilities we'll otherwise be unable to stop, etc. Counterspells are a more proactive and less reactive way to answer permanents, so we like them less as a card type, but they are a necessarily evil for stopping certain threats and aggressive moves against us. We usually want around 10-15 of these.
Sometimes a simple targeted removal can't do the job, and we need a bigger gun, which is where board wipes come in. Board wipes don't fit into the political gameplan, but they do fit into the control gameplan. Much like counterspells, they are necessary for dealing with certain kinds of threats and must be included for the deck to operate reliably in most metas. This usually takes up about 10 slots, or fewer if you have tutors that can hit them in a pinch.
Unless you play Phelddagrif perfectly, you're probably going to need to make up for lost value at some point. You are mostly trading 1:1, after all. So we usually employ some manner of tools for recouping that value, while being careful not to play anything that might attract unwanted attention. If you're using repeatable sources, this should be fairly light especially with tutors, but if you're using single-use instants and sorceries you can go a bit higher. Anywhere from 7-15 total.
Since we're not playing manaless dredge, we're going to need lands. Sort of stands to reason. Do note that we often have quite a few lands, and quite a few utility lands in particular, because it's a good place to get extra value, and playing a land every turn saves us from being forced to use cards injudiciously, or discard them to handsize, especially in the early game. We generally run 35 lands minimum, up to as many as 45.
Those are the five primary categories that define the deck. Anything outside of these categories should usually not be included, though there are some exceptions. The numbers are rough – the balance between them will vary based on your playstyle and meta, because you want your answers to be tailored to the threats you expect to see.
---
These decklists shouldn't taken as gospel – this is just to show how one should structure the deck. The deck is exceptionally flexible on budget, so it can be made almost as cheaply as desired, so long as the general structure is left intact. I highly encourage you to try your own favorite cards, as long as they fit into the structure of the deck. This deck is extremely flexible and open to customization. But if you want a starting point, here are a few tried and true lists.
---
Understanding how the deck works a great start, but there are lots of things that might not occur to you if you haven't played this deck extensively. Here are some of the things I've learned over years of playing Phelddagrif - though I'm sure there are many more out there waiting to be discovered.
Honesty is the Best Policy
Something I see some players do that absolutely drives me up the wall is controlling a powerful card and/or board state, and trying desperately to convince everyone that they aren't a threat, and that someone else's relatively innocuous card is really the threat. It's transparent, and I immediately distrust anything they say and target them even more than I otherwise would. This tactic might work on newer, unsuspecting players, but it won't work on experienced ones. Our goal is to actually be nonthreatening, not to pretend to be.
When analyzing the table, be as objective as you can without hurting your own image. If there's something legitimately dangerous on the board, it's to your benefit to point it out, of course. But if you're the one with the big hand, it's usually best, in my experience, not to try too hard to deflect this point. Maybe say that you have a lot of lands in hand, if that's at least mostly true. If someone says something like "I think he (you) is going to win", I'd say something like "Well, I'm definitely going to try" or "I'm in a pretty decent position, yeah, it's still anyone's game though." Don't volunteer extra information, but don't try to deflect and say "No, I think he's the real threat" unless it's actually reasonable. Gaining the table's trust is key to being able to direct them in the direction you want to.
This is a broad topic that will inevitably vary from group to group, but be aware that your demeanor can have a big impact on how well this deck performs. You should be friendly, joking, having a good time. After all, you're mostly a spectator, stepping in to interact only when necessary. When you counter something, I'd recommend saying something like "Sorry, I really can't let that resolve," rather than being vindictive or gloating. The more lighthearted, the better.
This is even more important if you're winning or losing. Your demeanor shouldn't give anything away. If you know you're on the brink of victory, don't smirk too much about it. If you're on the brink of defeat, don't get salty. Remember that this deck is generally not capable of fighting an archenemy game against opponents of similar power levels, so it's crucial that, on some level, your opponents are fine with you winning. Some players enjoy cultivating fear in their opponents because of their powerful decks and skillful play, but that's not what you should be aiming for here. Remember, you want your win to look like an accident, not a carefully orchestrated plan. Play the part. It's more fun to be lighthearted anyway.
This is related to personality, but especially in casual groups you don't want to constantly be deep in the tank, trying to plan out your moves, saying "resolves" or "I'll allow it" every time you elect not to counter something, etc. If it's a close game and you need a good think, then go ahead and take it, but don't do it often or you'll ruin your façade of casual play. It will remind people that you're a force to be reckoned with, and raise your threat profile. The perk of having so many answers is that we can usually allow things to go on for a pretty long time before we're forced to react, which means we don't need to be in the tank about every spell. Being able to play fast and casually, while still maintaining control of the game, takes experience and skill, but it's an important part of making this deck perform optimally.
There is also, I think, benefit to being able to attribute luck and opponent misplays as much as possible to your victory. After a game, a lot of time I'll point out that, if my opponent had played better they might have won, or I'll attribute win to a lucky topdeck. Sometimes this is true even if, for example, I topdecked a board wipe just when I needed it – despite the fact that I already had a different board wipe that would have done just as good of a job. Resist the urge to reveal how many counterspells, removal, and whatnot you had saved up at the end of the game. Your opponents don't need to know just how in control you were.
"But DirkGently," you say, "isn't Phelddagrif
the
group hug commander?"
Now listen up you little puke, Phelddagrif is far more than some stupid toy for casuals to jerk...ahem...sorry about that. Phelddagrif often has a reputation for being a group hug commander, but I'd like to differentiate group hug from politics by comparing him to
Kynaios and Tiro of Meletis
. K+T are group hug, while Phelddagrif isn't, for two reasons.
The first is that Phelddagrif isn't symmetrical. If someone is being an obnoxious thorn in your side, or if they're just playing a scary deck, you can and should avoid providing them resources with Phelddagrif until they shape up and fly right. Phelddagrif lets you focus the benefits where you want them to go, while K+T will keep aiding your enemies even as they're killing you with the resources you're giving them.
The second is that Phelddagrif isn't mandatory. If K+T are on the board, their effect is happening, even if you really don't want it to – say because you're the threat and you don't want each of your opponents to draw a card. Phelddagrif does nothing until you want to, which means only when it's advantageous. If you're stuck playing archenemy, you don't need to give hippos to the enemy.
There are lots of cards that are often run in Phelddagrif lists, such as
Howling Mine
,
Font of Mythos
,
Heartbeat of Spring
, etc. which we studiously avoid. Think about it from the perspective of your enemy. You aren't aiding them exclusively – you're helping everyone equally – so they have no particular reason to want you alive. And attacking you will have no impact on whether they continue to get those benefits. So it really doesn't move the needle whatsoever in terms of whether or not they want to hurt you. There's no great political reason to play
Howling Mine
, unless your opponents are simpletons who only think as far as "Ooh, you're letting me draw cards, can I be your best friend?"
There is a little merit to the idea that, in a meta where one person is significantly scarier than the rest, that providing all players with an equal number of cards provides more total resources to fight the threatening player. You might try experimenting with a couple of them if that's the situation you're in – although I do think the possibility for them to backfire is pretty significant.
Don't Overuse Repeatable Effects
It's tempting, when trying to generate value, to rely on something that can be reused frequently. A great example of this is
Capsize
, a powerful card that's a favorite of control players. The problem is that it's predictable. Your opponents will be able to work out whether they can beat you before getting capsize-locked out of the game, and if they can't, they'll band together to try to stop that from happening. It also means that they'll know what to play around. If you're always playing new cards, that's much harder for them to do. In general I'm pretty down on repeatable effects, especially those that directly affect the board in some way. Repeatable effects, when used for value, should have a semi-random outcome – ideally drawing a card.
Always Consider Your Meta
This deck can play virtually anywhere and get a reasonably close game, but that isn't to say that tailoring it to your meta isn't a good idea. In particular, budget can make you a target – if everyone else is running basics while you're running
ABU duals
and
fetches
, you're going to raise you threat profile a fair bit. Luckily, weaker metas with poor fixing are also less likely to require fast answers on your part, so budget fixing should be fine. And the same is true for answers and value engines – play to the level of the table. If that table is competitive, don't hesitate to run
Sylvan Library
, but if it's casual that's probably not necessary. This isn't a critical point, but it can be worth keeping in mind if you expect to play in a stable meta. I think this is a deck that operates fantastically well on a budget – I run a version where no card costs more than $2, and it wins a very high percentage of games against much pricier decks.
Something I've dabbled with is running alternative means to win with Phelddagrif, and I've come to the conclusion that it's not worth it. For one thing, those cards can often hog spots in your deck that could be a crucial answer instead. For a more important thing, your opponents will be much more suspicious of you in future games. If you keep winning with, say,
Laboratory Maniac
or
Approach of the Second Sun
, your opponents will be a lot more motivated to kill you, and they'll eventually prepare some sort of answer to disrupt you. For one last thing, it's just not necessary. Phelddagrif is a virtually unkillable 4-6 turn clock with flying and trample as necessary. Yes, it's a bit of a grind at the end, but you don't want your opponents to fear that you'll suddenly win, which means you want a slow, grindy wincon. If you absolutely must speed it up, try lands that buff Phelddagrif, or tools like
Krasis Incubation
or
Orzhov Advokist
that can dramatically increase the clock without making it come out of nowhere.
Don't Play Permanent Hindrances if Possible
Remember that your goal is to motivate your opponents to do what you want, so it's crucial to think about how they're likely to react to every card you play. With that in mind, you want to avoid cards that will be ongoing problems for your opponents. It's tempting to play cards like, say,
Rule of Law
that will make it much easier to keep certain decks in check, but that motivates the players who are hampered by that effect – probably most of them – to either remove the permanent or kill you. That's why we don't want our disruption to linger. Granted, our opponents will probably realize that we're packing lots of disruption, but the fewer reasons we have to make them come after us, the better. Sometimes permanent, stax-style disruption can be a necessary tool for certain metas, so don't discount it entirely, but it's not what we should aim to do with this deck unless it's absolutely necessary.
Of course we're always going to attract some attention when we step in to block our opponents from winning, but besides avoiding ongoing obstacles for our opponents, we should also make ourselves as unnoticeable an obstacle as possible. That means you shouldn't block every powerful card – partly because it attracts attention, and partly because it's just not possible. It also means you should avoid cards that attract a lot of attention – cards like
Rhystic Study
, for example, make your opponents acutely aware of your presence every time you ask "Are you going to pay one?" In general you should aim to interfere as minimally as possible, but keep in mind that, in a game where one player is significantly more powerful, you'll need to be more aggressive in your efforts to disrupt them, and your visibility will necessarily rise as a result.
Controlling information is an interesting element of this deck. Once upon a time, I used to frequently reveal removal to my opponents in an attempt to dissuade them from attacking me or making other moves, but that straightforward approach doesn't always work. For one thing, once people know what you have, they can play around it. They can wait on their real threats until you're tapped out, or they can keep attacking you with unimportant creatures to force you to use it. Or they might attack you with their best creature anyway, just because they don't like being manipulated. As a general rule of thumb, I would say don't reveal an answer unless you would definitely use it. For example, if they're choosing a target for
Cruel Ultimatum
, unless they're especially angry about being manipulated, go ahead and reveal your counter. If they decide you're too big a threat anyway, you haven't lost anything, and if they choose someone else, then you got what you wanted. But of course, this still has the downside of revealing a counter to the rest of the table, who is now motivated to play around it. So the best first line of defense is always being an unappetizing target in the first place. If your opponents merely suspect you have a counter and decide not to target you for that reason, that's even better.
Board wipes should almost never be revealed, especially sorcery-speed ones. You've motivated your opponents to do whatever it takes to force you to play it ASAP so they can return to building up their boards, to attempt to find a way to protect their board if they have such a card, to hold onto their best threats for later, or to simply attempt to kill you before you get the chance to use it. If someone is very far ahead, you might reveal an instant-speed board wipe in order to motivate them to attack elsewhere – especially if targeted removal will be ineffective – but the effectiveness of that could go either way. As before, only reveal if you would have used it anyway.
By contrast, you want your opponents to know everything about each other. This is why
Telepathy
is arguably the best card in the deck. If someone is sitting on a nasty combo or a powerful card, our opponents knowing about it can only motivate them towards disrupting that combo or killing that player. Knowing what your opponents have also enables you to use your answers on only the things that matter.
Omniscience
might be a terrifying card, but if the controller doesn't have anything in hand that synergizes with it, it might not be worth answering. You also get to know what answers your opponents have, so you can force them to answer the threats rather than yourself by passing them priority.
Let Things Get a Little Out of Hand
Especially if you're new to the deck, I recommend keeping a very loose grip on the reins. Of course some threats are going to require answering – instant-win combos, cards that will make you discard your hand, etc. – but many cards considered "most answer threats" can be safely ignored. This is especially true if the power level of the decks isn't too high. A
Consecrated Sphinx
is totally fine if it's controlled by someone with a fairly weak deck. Leaving these threats alive gives your opponents a chance to answer them, a chance to get more value from your board wipes, and most importantly a chance for your opponents to be the threats. You want the other players to engage with the threat, damage to be dealt, fur to fly, etc. Let them wear each other out. Remember that the better control you have, the less you have to use it, and we have amazing control with this deck. Sit back a bit and see what unfolds. A lot of the time a light touch is the best choice, especially since it lets you stay as invisible as possible.
When people think of the archetypical control deck, they think of one that won't let anything attacking them survive, anything targeting them resolve, etc. People fear and hate that deck. For that reason, it's important not to appear invincible to your opponents. If they attack you for a few points of damage, don't sweat it. Don't make it look like you don't care at all, but don't swear vengeance on their family either. Usually an "aww, rude" is about the right tone to strike if they give you a decent-sized hit, or destroy one of your permanents. If you appear to be reasonably vulnerable, they'll be a lot less trepidatious about allowing the game to go to a 1v1 against you, and a lot more likely to fight with each other. That's not to say you need to take everything, of course – if it's a serious blow, by all means block it. But don't get hung up on every little transgression made against you, and don't make a retaliatory threat about every move someone might make against you. If they continue to target you, then make it clear that you do have teeth, but don't be quick to anger.
One easy to remember, general rule of thumb, if you're running into problems getting targeted, is to try to aim to be in third place as much as possible. What do I mean by that? I don't just mean life totals, I mean your general status in the game - board presence, lands, life, hand size, etc. All the stuff that goes into threat assessment. You should try to aim to be in third. Why third? First place is an obvious no, the rest of the table will generally target first place. One of our major goals is avoiding being in first place, so I hope you've been paying enough attention to recognize why we're doing that. Second place can also be problematic, though, because second place is generally the spot that the first place is looking when they're deciding where to put some hurt. Why not fourth place? Well, fourth place is sometimes the easy target, and if the game is relatively balanced players will sometimes go after easy prey to reduce the complexity of the game, and we don't want that either. Third place is the least noticeable, least likely to get attacked spot, on average. So as a general rule, aim for third, and you'll come out on top. Eventually.
"But what if they figure out what I'm up to?"
A common concern with how this deck operates is that the opponents will figure out how it works, and then easily dismantle it by teaming up against you. This is possible, but unlikely. In fact I usually don't mind talking to my opponents about even some of the theory of how the deck works, and it's not a big knock to the win percent. If this seems strange to you, then allow me a metaphor.
Phelddagrif, as a deck, is like climate change. Most people agree that climate change is a problem, and that something ought to be done about it. And we'll all piss and moan about how ridiculous it is that more isn't being done, and some people are telling us that, unless we make massive changes, we're all going to be dead in a few hundreds years or whatever, but nothing much ever seems to HAPPEN. Because even though we'd LIKE to help fix the problem, fixing the problem is a big personal inconvenience. If our countries were to institute the kind of sweeping legislation that scientists recommend, it'd really hurt competitively in terms of trade. Maybe we commit to doing a little teensy tiny something, but it feels like we're all playing a sort of game of chicken where no one wants to commit too much to doing anything until everyone else has already done more.
If you can't see the parallels, your opponents may know that you're a problem, that eventually it's very likely that you'll be the winner, but there's always more pressing problems to deal with, and if they dedicate a lot of resources to fighting you and the other players don't, they're going to be at a huge disadvantage because you can put them in a miserable spot competitively by removing everything they care about and funding their enemies who are more cooperative. Sure, if everyone collectively agrees not to be swayed by your bribes, to keep fighting you with everything they've got and not let up until you're really, truly dead, then they can take you out. And if the whole world could agree to put aside short-term gains in order to really commit wholeheartedly to combating climate change, we could probably solve it. But that doesn't seem too likely, now does it?
---
Sometimes, despite our best efforts, things can go…bad. Here are some of the common situations I've run across, and how I feel is best to handle them.
One particular type of deck that can be very annoying to deal with is the "group slug" deck, with the prime example being
Purphoros
. Purphoros does not "do" politics. He doesn't care whatsoever about what you're doing, he's just going to keep making tokens until everyone else is dead. This can put you in a situation where you're forced to react to him even when he's no threatening you specifically, and it can put you in that situation a lot.
One excellent silver bullet against this kind of strategy – at least the damage-based slug – is
Pulse of the Fields
. As long as someone has high life, you can happily climb back up to a nice comfortable total without too much fuss, and Phelddagrif can help keep someone else's life total high. If you can keep ahead of the Purphoros player's damage, he might give you an easy win by killing the other players. You might even use Phelddagrif to give Purphoros tokens to kill your opponents faster.
Another strong silver-bullet is
Song of the Dryads
or
Imprisoned in the Moon
. With Purphoros permanently-ish eliminated, the threat is neutralized and you should be fine. This is also effective against other group slug commaders that use discard or other means to control the game, such as
Liliana
,
Nath
,
Savra
, or
Shattergang
– although you might be able to simply ignore those more easily if you have good value generation.
Barring those cards, your only option is to outrace him, but Phelddagrif is quite slow. Because he's also threatening the other players, you can use Phelddagrif's ability to give them hippos to ensure they have enough ammunition to pressure his life total, and use your disruption to slow him down. This is your general strategy for most decks that are too threatening to face in a 1v1 matchup, such as
Maelstrom Wanderer
and
Prossh
.
Phelddagrif is really best used in four-plus-player games, but sometimes you'll find yourself playing a three-player, or one player might be eliminated quickly and leave a three-player as a result. The smaller the game, the harder it can be to stay invisible. The worst-case-scenario is when one of the other two players is far behind, and not a significant threat, leaving a functional 1v1 before you're prepared for it. Our deck generally fares well in 1v1 games because of how many answers we run, but it still puts us in the position of needing the right answer quickly. In this scenario it can often be critical to use Phelddagrif to help boost the weakened player up, which can help keep the field more even under the guise of trying to have a "good game". It's also worth noting that having efficient answers and efficient value engines is a lot more important here. In general these sorts of games are very winnable, but they can be a bit more brutal because we're forced to expose the strength of our deck in order to fend off the other player, which can make us look more threatening in future games, and it often means we're slowly beating down both enemy players, the strong one followed by the weak. In general I would avoid three player games if possible, the politics are much less predictable because your opponents are much more likely to see you as an immediate impediment to them, and less as a spectator.
"I See What You're Doing"
One thing I love about this deck is that, even when people understand what it's doing, it still basically continues to work. But over many games, people will catch on to how you're abusing politics to pit them against each other, or at least they'll notice that you're winning a lot, especially if you're doing a poor job of playing fast and casual. All you should really need to do here is acknowledge it and downplay it a little – "Yeah, I have gotten pretty lucky, haven't I?", "Yeah, I think you could have won that last game if I hadn't topdecked that board wipe", or even "Politics can be good, you should try it." Pin the key to your success on luck, or bad play from your opponents – which in fairness, is always always a significant element – if possible. But even outright acknowledging that the deck is good and that it plays well with politics shouldn't generally hurt you too badly – if anything, it puts the onus on them to play better politics themselves. The only things you really shouldn't do is to try to brush it off entirely, or to gloat about your victories. Both for your own future winrate, and because it's lame.
People Who Refuse to Play Along
Some people resist being manipulated to the point of violence. If you threaten to kill their creature if you attack them – well, they're definitely attacking you now. If you give them hippos, they're sending them right back in your face. There's no bargaining, no arguing, just constant pain.
This is pretty rare, and is most likely a result of you screwing up and being a cocky jerk at some point, but how you handle it is going to depend on a few things.
First, how strong their deck is. If it's a strong deck, then just treat them like the threat they are. Arm their opponents. Destroy their key permanents. Counter their spells. Make sure to remind them that you're doing this because they refused to play politics. It's kind of unlikely that they'll change their mind, but at least the rest of the table will understand your side of the issue. Nobody likes to get targeted constantly for no reason.
If their deck is weak, then you probably can't play the same way. Try to play mostly normally, removing things that obviously need removing and maybe being a bit more aggressive towards them than normal, but not targeting them to excess. Maybe try finding a common enemy with significant threats at some point, and offering lifegain or something as a truce. Use honest threat evaluation to try to explain to them why they need to be more concerned about other players.
If multiple people are ganging up on you, then the same applies even more. One thing that can help is to burn off your answers a bit, keeping your hand size lower. This is risky if the field is competitive, but if people are going all aggro against Phelddagrif then it probably isn't. As a last resort you might even reveal your whole hand –you have no board wipes, ideally – to show them that you aren't assembling some sort of combo. Try singling one of them out and trying to make a deal with them for a truce. With only one person targeting you, you can probably survive. Or ally with the other members of the table and stuff them to bursting with hippos in an attempt to kill your pursuers, or at least force their attention elsewhere.
Finally, if all else fails, and the table is set against you and cannot be talked out of it, bargained with, or beaten – then it's time to lose. This deck was never made to fight that sort of fight. If you want archenemy-style control, then go play
Child of Alara
. If you want to stick with Phelddagrif, make sure you're not being an unpleasant person to play against, and do your best to figure out why they're so against you. Try asking them. Consider playing a precon deck, or a deck you've intentionally made to suck, if there's just no solution except to lose more often. And if none of those things work, then maybe it's time to find a new playgroup.