Tribal Tribal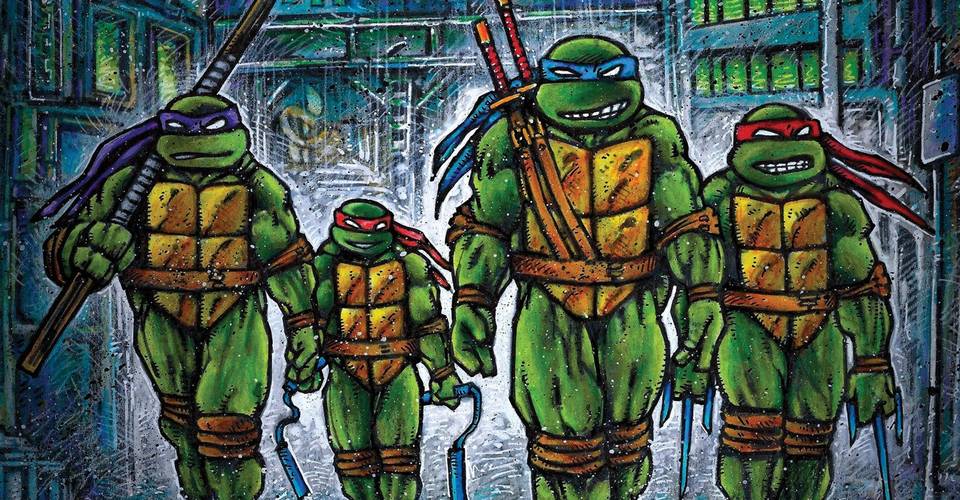 Unfortunately, "teenager" isn't a creature type in magic, so you'll have to settle for mutant ninja turtles
Home of the fearsome 1/1 Ally Angel Beast Demon Dragon Dwarf Elemental Elephant Elf Faerie Giant Goblin God Human Insect Rat Spider Squirrel Merfolk Minotaur Ninja Cleric Warrior Pirate Rogue Scarecrow Sliver Snake Shaman Treefolk Unicorn Vampire Wizard Wolf Zombie
Deck Philosophy
I've been playing Magic the Gathering constantly for over a decade, seriously jumping into the game when Shards Of Alara was released. It only took me one standard tournament of getting my face bashed in by Faeries and Jund that I realized the spike life wasn't for me. Merely being competitive and winning at all costs brings me no joy. I am competitive and I
want to win
, but I need to win
with style
. The more cards that my opponents have to read because they've never seen them before the better. Anyone can win with
Craterhoof Behemoth
, I'm not here for that. I have transcended such trite win conditions, I'm here to cause concessions with a
Didgeridoo
trigger. If I win a game and my opponents aren't vaguely confused and quite amused I have failed.
This deck's philosophy is extremely simple, every card in the deck must require me to declare a creature type upon casting, entering the battlefield, ability activation or otherwise buffing a specific creature type. Another way to say this is that every card must increase the amount of relevant creature types each of my Changelings has which means I'll play
Dire Tactics
but not
Rend Flesh
.
Rigerously following this constraint means that an example line of play is tap
Ally Encampment
for which can only be used to cast an Ally
Amoeboid Changeling
which only cost because it's a Dragon. Also, because I just cast a Spirit,
Elder Pine of Jukai
triggers. Then, since a Scarecrow entered the battlefield
Reaper King
triggers. Now because
Amoeboid Changeling
is a Knight it has haste because of
Khorvath Brightflame
. So I'll tap
Amoeboid Changeling
to turn my
Elder Pine of Jukai
into all creature types so that when I cast
Peer Pressure
naming "Praetor" I can steal my opponents
Jin-Gitaxias, Core Augur
since I control more Praetors than he does.
On top of my previously mentioned restriction I also have a hard limit of 4 non-land cards per tribe to maximize the variety of represented tribes, otherwise this deck would rapidly turn into a Sliver/Dragon deck held together with Changelings and a smattering of other tribes. My build of this deck is a slave to these constraints. This means that
Thunderherd Migration
is strictly better than
Rampant Growth
because
Thunderherd Migration
allows me to say "Dinosaur" whereas
Rampant Growth
does not, even though in every other deck
Rampant Growth
is the strictly better card. You will not see
Sol Ring
in my build of this deck ever. I've helped several other people build different flavors of this deck and rarely does anyone stick quite as religiously to this constraint as I do. Again, I want to win with as much style as possible and constraints only maximize style. However, you might not be nearly as driven by this desire so don't be afraid to make the deck your own as there's a ridiculous amount of choices available while constructing this deck. I also have several preferences in regards to what I find "fun" that flavor my card choices. For example, I cut
Unesh, Criosphinx Sovereign
purely because while resolving it often resulted in me winning the game, I found myself lightly storming off and monopolizing game time whenever it resolved.
Building Your Own Deck
So you want to build your own Changeling tribal tribal deck. You have a few questions to answer before you even select your first card.
How hard do you want to stick to your tribal theme. Where do you draw the line on goodstuff? Are
Sol Ring
and other mana rocks too good to pass up? What about off-theme removal, wraths or other interaction? How many off-theme utility cards that tutor, discard or sacrifice? Most people don't stick as rigorously to theme as I do, so get a vague idea of where you want you deck to fall on the spectrum of power level vs theme. For example, I'm running as many non-basic lands as possible that do relevant things with my Changelings and it definitely negatively affects my win %. Every now and again I have cards stranded in my hand, and I'm less willing to run certain cards because of their mana cost. I find these to be acceptable sacrifices for the ability to run
Swarmyard
,
Elephant Graveyard
and a slew of other utility lands in my 5c deck. Are you ok with that or do you want a more stable mana base?
Do you want your deck to lean towards combo or combat damage? Do you want lean towards control, mid-range or aggression? One of the delights of this deck is that the deck plays wildly differently from game to game. Some games you go wide and murder everyone with
Mirror Entity
. Sometimes you infinite combo out your opponents turn 8. Sometimes you control the board with removal and close out the game with general damage. However, you'll probably want to select which one you primarily want to build towards. My build is leaning towards a being a disruption filled mid-range deck that closes out the game with infinite combos.
Haakon, Stromgald Scourge
,
Hibernation Sliver
or
Shared Animosity
? I've found three main synergies that inform deckbuilding;
Sacrifice/Aristocrat.
Blink/Bounce.
Token/Go-wide.
Picking between these three cards will give you a point to focus and lean towards. I'm personally building a more blink-centric deck so I'm having a difficult trying to find a place for
Najeela, the Blade-Blossom
since I have almost no token payoffs. I'm also running zero sacrifice outlets that would be required to make
Haakon, Stromgald Scourge
shine.
A Brief Budget Aside
I first built this deck when the only Changelings were the Lorwyn ones. I was jamming
Amoeboid Changeling
,
Skeletal Changeling
and
Fire-Belly Changeling
.
Didgeridoo
was $5.
Knowledge Exploitation
was a quarter bin card.
Skyshroud Poacher
was a couple of bucks. Then along came cards like
Anowon, the Ruin Thief
,
Lathril, Blade of the Elves
, and
Moraug, Fury of Akoum
. As a result a bunch of the cards in my current build that started out as pure jank are now substantially more expensive.
One of the joys of this deck is that there are no unreplaceable cards. I played a game where the following happened
T2 -
Mistwalker
T3 -
Magda, Brazen Outlaw
+
Guardian Gladewalker
T4 -
Mana Rock
,
Dragon Tempest
,
Masked Vandal
,
Universal Automaton
killing two utility creatures (opponent scooped to losing both his mana dorks)
T5 -
Mirror Entity
(using mana rock and single leftover treasure) to kill a blocker, swing 50 (5 creatures, now with 10/10s from dumping 5 mana from lands + 5 mana from treasures generated on attack into
Mirror Entity
) to kill the second player.
At the time of writing
Magda, Brazen Outlaw
is $1,
Dragon Tempest
is $2.25,
Mirror Entity
is $2.5 and the 4 Changelings are <$1.00.
Dragon's Hoard
is $5 but completely interchangeable with any other mana rock. That's an incredibly inexpensive grouping of cards to blowout the table turn 5. This line of play was using
The Ur-Dragon
(who is currently $30), but my deck is built to exploit his eminence ability. There are plenty of potent generals who are <$5 that can helm the deck but they'll likely require different card choices to take advantage of their strengths.
What I'm trying to say is that an extremely functional and deadly tribal tribal deck can be built with only <$5 cards. Everything in this deck is about context. I own
Skyshroud Poacher
so I lean heavier into an elf sub-theme with
Priest of Titania
,
Tolsimir, Friend to Wolves
and the like. If you don't have access to
Skyshroud Poacher
you'll just need to be aware that
Tolsimir, Friend to Wolves
might not be strong enough to make your 99 without the ability to tutor him at instant speed. At one point I ran a mini-combo of
Elephant Graveyard
+
Contested Cliffs
+
Venomous Changeling
. Without
Elephant Graveyard
/
Swarmyard
the value
Venomous Changeling
offers will drop dramatically.
There's currently 21 common Changeling creatures, they should always be extremely inexpensive. Throw those Changelings into a pile with
Haakon, Stromgald Scourge
/
Hibernation Sliver
/
Shared Animosity
(or equivalent cards if these have spiked for some strange future reason) and then build your deck outwards to contain whatever synergy cards your budget allows. Your deck will be fully functional even without any high-ticket items.
Picking Your Commander
Once you've got a rough idea of what themes you want to lean towards you can start thinking about which commander you want and there's actually at least 8 reasonable choices.
The Ur-Dragon
- The Ur-Dragon is my personal choice. Since my deck is based around generating as much ETB value as possible, I want to be able to cast and bounce my Changelings as often as possible. Hence, mana reduction is extremely powerful. I also find that it is very easy to give The Ur-Dragon +1/+1 so he two-shots people, opening up an easy alternate win-condition. In addition to being a source of mana advantage he also provides massive card draw if he's ever cast. The final reason being he's extremely easy to cast. That doesn't seem right at first glance but
Morophon, the Boundless
is on the battlefield,
The Ur-Dragon
only costs for his massive onboard presence.
Morophon, the Boundless
- You'd think that Morophon would have been the more obvious choice but my opinion
The Ur-Dragon
's eminence not requiring him to be on the battlefield makes him much stronger. That being said Morophon is much easier to get on the battlefield and keep on the battlefield with random things like
Rattlechains
or
Knight Exemplar
. Morophon also being a Changeling is significant upside over being only a Dragon. Once on the battlefield Morophon provides mana advantage with non-Changelings (like
The First Sliver
) and combos with
Jodah, Archmage Eternal
to make creatures of one type cost which are other upsides over The Ur-Dragon. I personally prefer the Ur-Dragon's consistency and more impactful battlefield presence.
Reaper King
- Having a
vindicate
in the command zone is great. Reaper King is also a strong choice. I prefer mana reduction and card advantage from the command zone instead of removal. I've never personally tested him, but the anecdotal evidence that has been presented to me is that he draws far too much hate to be worth it.
Sliver Overlord
- Having a repeatable Changeling tutor in the command zone is an extremely strong source of card advantage. It also synergizes extremely well with
Amoeboid Changeling
,
Maskwood Nexus
and
Unnatural Selection
. I personally find it to be a touch slow and to draw a lot of hate as a commander though. Definitely a strong choice.
Construction Details and Strategy
Note, my thoughts on specific cards (including various Changelings) are in a later section. This section is more about the cards that synergize with your Changelings at various points in the game.








Deck Weaknesses
Cards you really don't want to see
Since this deck is extremely creature heavy it can get blown out by wrath spells. Thus great emphasis should be put on avoiding over committing to the board. That being said cards like
Hibernation Sliver
,
Linvala, Shield of Sea Gate
,
Sliver Hivelord
,
The Scarab God
,
Knight Exemplar
,
Crested Sunmare
, and
Haakon, Stromgald Scourge
can help to mitigate this risk. There's also
Patriarch's Bidding
and
Haunting Voyage
to recover.
Another weakness the deck has is being exploited by repeatable pinging. The worst examples of this are
The Scorpion God
and
Marath, Will of the Wild
. These matchups are extremely rough since you're running so many tiny utility creatures that they just eat up.
The deck also struggles against aristocrats builds since the deck lacks meaningfully ways to interact with the graveyard. These decks also usually run
Grave Pact
and can repeatedly boardwipe you with their recursion.
Patron of the Vein
excels in this situation.
General Kudro of Drannith
and
The Scarab God
can also help.
The deck also doesn't have a ton of great ways to interact with the stack, so anyone playing spell slinger/storm is basically impossible to interact with other than drawing a good hand to aggro them down. There's some counterspells like
Wizard's Retort
,
Voidmage Prodigy
,
Sage's Dousing
,
Psychic Trance
,
Silumgar's Scorn
and
Spellstutter Sprite
but none of them are particularly strong.
The final issue this deck has is
Humility
/
Overwhelming Splendor
. I strongly recommend against doing anything other than immediately conceding if these resolve as your only out is
Knowledge Exploitation
for a disenchant effect or someone else killing the player who cast them.
Torpor Orb
is also rough but not nearly as impossible to deal with. If for some reason you run into both these cards frequently you can also slot in
Rootgrapple
.
Deck Skeleton of Highest Impact to $$ Cost Cards
Changelog
Specific Changes + Reasons
The Ur-Dragon, Changeling Tribal: Sorted by Creature Type Synergy
Approximate Total Cost: