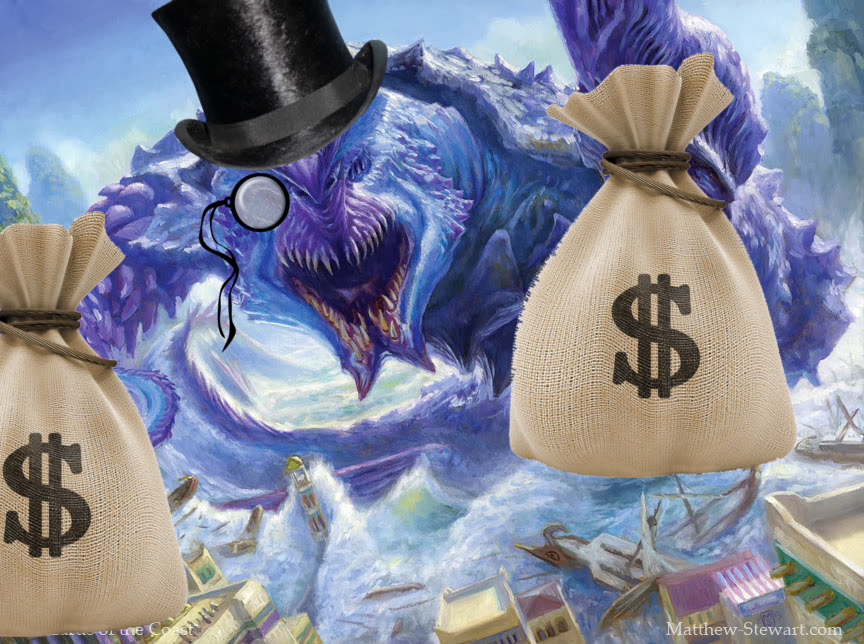 At some point I was apparently thinking of making this a budget primer
When you think mono blue, you can easily rattle off a dozen or so commanders before you even start considering
Tromokratis
. That's not surprising, as there are some pretty ridiculous legends to build around, but the kraken's absolute obscurity is a bit undeserved. At first glance, he appears to be a nondescript beefslab, a bit like stuffing a
Vizzerdrix
into your command zone because you can. However, there's more to this bad boy than meets the eye:
Usually hexproof. The only time when his shields are down are when he has to crawl out of the water to partake in combat, which gives you ample windows of opportunity to prepare some answers in case someone gets trigger happy. The presence of this window makes it also a bit more fun and interactive than just turning a straight untargetable feller around, as you suddenly have to account for all the mazes and other stuff that may be sitting around.
Wonky combats. If Tromo is to be blocked, the whole team needs to do the blocking. Tap a single dude down and they can no longer fulfil that requirement, and in for damage you go. Give him wings, and a single walker on the opposing side makes him unblockable. Set down Silent Arbiter, and having more than one creature entitles you to a kraken hug. Good times.
Beefslab. I mean, he is a massive beatstick, there's no denying that. Without any sort of enhancement, he can three shot anyone, and he wears Grafted Exoskeleton and other cheap voltron stuff like a champ.
So, what to do with him? The bulk of the shell is going to be quite similar to a lot of blue builds by default, as the colour excels at acquiring bonus cardboard and performing a variety of instant-speed shenanigans. Splash in a bit more tapdown than you'd normally have, including on stick-around permanents such as
Pacification Array
, and you've got yourself a bit of a "fun police" shell that can help stop the game from running away as it builds up its resources to chase out a massive, dastardly kraken and start hugging people with it.
The list was originally a budget as hell build, which also happened to be quite heavily metagamed towards what my playgroup looked like in 2014/2015. That incarnation of the deck has been retained for historical curiosity purposes below.