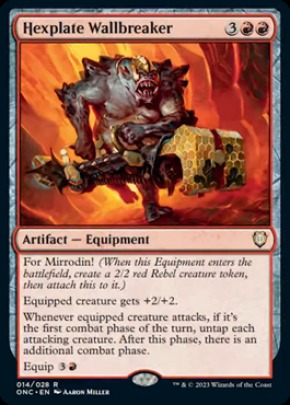 For Mirrodin! (When this Equipment enters the battlefield, create a 2/2 red Rebel creature token, then attach this to it.)
Equipped creature gets +2/+2,
Whenever equipped creature attacks, if it's the first combat phase of the turn, untap each attacking creature. After this phase, there is an additional combat phase.
Equip {3}{R}
Community Ratings
| Format | Rating | Your Rating |
| --- | --- | --- |
| Overall Rating | Unrated | |
| Limited & Cube | Unrated | |